Visit me at waxwoman.blogspot.com -- Musings of a Wax Woman!



Great job L'Oreal, you just made me want to buy your polish even less. Look at who buys your products before you change the marketing plan -- keep the exclusives to your die hard supporters, the salon clientele.



**** These are my opinions. No one paid me to post them, or influenced my decision by providing compensation. These remarks are covered under the 1st amendment.
Most of the large nail blogs have posted this already.... Essie moves to Wal-Mart. Sorry, as a walmart boycotter (never unless I absolutely have to go in one...) I feel like L'Oreal screwed us. Essie built up a nice image of quality, luxury, and class - then complains that e-tailers are selling at a discount because it "cheapens the brand." Now we find Essie at Wal-Mart. We have all seen peopleofwalmart.com - and this is somehow quality, luxury, and class??
Current Mood:

bitchy


At least I have the little people to keep me company. I am referring to the Moose as "Bedbug" at the moment - everytime the blankies are moved she thinks she needs to be in bed. Nothing like a Boston Terrier bedhog.
I have felt crummy for the last 3 weeks, was told this morning well there is a flu going around -- um in October? Never fails, if I can catch something I usually will lol.
This is Estee Lauder's Ultra Violet. It applied evenly in 2 coats, and I am currently loving Seche Vite as a top coat and CND Stickey as a base. I wore this for 4 days with no chipping - so I am very impressed. I have other EL polishes in my untrieds, so I think I might give them a go.
This is Borghese's Menta. It is a sheer, this is three coats with a base and top coat. I wasn't loving this mani so it only lasted overnight. Next time I use this I will use a more opaque base and see what happens.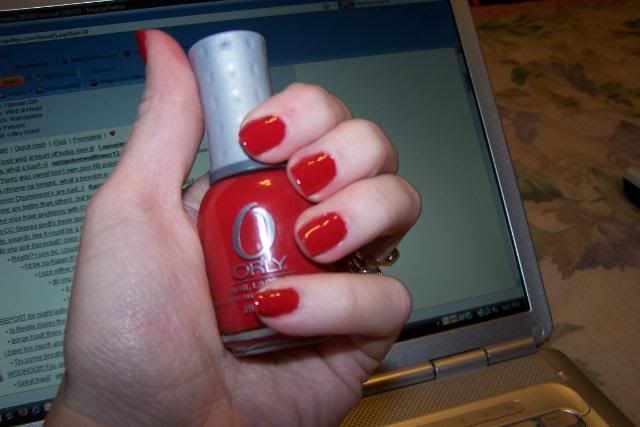 This gem is Orly Poison Apple from the Fairy Tale collection. I love this one so much I bought a backup bottle. This is a true red cream that applied in 2 coats. I get compliments when I wear this one even though as a redhead I probably shouldn't wear red.
This is China Glaze Turned up Turquoise with Sally Hansen Fairy Dust. I used painters tape to do the tips then painted the whole nail in Fairy Dust. It wore like IRON for a week and a half. When I finally took it off there were no chips and only minimal tip wear.
**** I bought all these polishes at retail, or swapped for them on Makeup Alley. They were not perks from any company asking me to try their products. ******
I am finally getting these swatches posted - It has been a rough couple of weeks here, and before surgery on Tuesday I want to make sure these get posted for your viewing pleasure!


Is there a favorite you want to see reviewed? Let me know! If I have it I will try my best to get it done in a timely manner!
Just feeling kinda blah! you know - where you want to be a slug and not do anything? I have had pneumonia and been dealing with the coughing and ickyness. There will be swatches of glittery goodness for your tips coming this weekend! I am going to pull out my box of untried polish and get to swatching!


The grocery list feature is editable - you can cross off items you have on hand, and add items you don't that you need at the store (like milk and soda). I'm not affiliated with BigOven but I am definitely loving their app and site.

I have menus planned for the next two weeks and a list for my grocery shopping next week - what more could a busy gurl ask for?
I stumbled across BigOven.com last night on the iTunes store. The app is free for iPhone and they have a great website. You register for a free account and the site will keep track of your favorite recipes, create a grocery list AND allow you to email or print recipes.
These are three of the residents in the animal house. The other two (the littlest monsters) are boston terriers. I am working on getting good photos, but they mainly look like black and white blurs. This is the best I can manage -
There are 3 other resident furry ones, all ferrets but they don't enjoy flash photography.
I am 29, and way into cosmetics - hence pigmentgurl. My blog will probably be a mix of product reviews, dog and ferret photos, and general commentary.
Enjoy!
Pigmentgurl
What's the most embarrassing CD or track in your music library? How often do you listen to it? Do you share it with your friends or keep it to yourself?
Maybe its my mood... but if I am embarrassed by something I usually don't let it live long in my collection - But this is coming from someone who has tracks from the Irish Rovers next to Coldplay.
Current Mood:

bitchy